"I often try to integrate an omniscient point of view with a first-person narrative as this allows me to build more authentic narratives."
The line quoted above is extracted from the introduction to this poetry collection, Melodies of Society, by Arav Rajesh. Before I get into the conjecture, arguments and critical commentary, let's get settled with the introduction to the book (and the poet as well). Melodies of Society is a contemporary poetry collection, containing 14 poems, written by a 16-year-old poet Arav Rajesh. The poet is from Delhi, a class 12 student, and has a deep interest in poetry. He has read many poets and a few have been mentioned in the short introductions to some of the poems in the book as well.
Coming back to these lines, an omniscient narrator can only be a person who is objectively watching everything from a vantage point. A person who indulges in the act cannot be omniscient in ordinary parlance. Therefore, once you begin reading these poems, you may find an extremely intensive flow of emotions, backed by observations and thoughts – no doubt, that creates the foundation for these poems. Many poems are relatable, nevertheless. Readers will find a reflection of current and recent scenarios in the world. COVID-19 poems, to be honest, were the best highlights of this poetry collection. Those two are poems that are structured with thoughts and supported by emotions (beautifully) that may find reflections in many readers. Many have lost near and dear ones in this pandemic. Farewell to Friends glean the reminiscence of those horrific memories in many people's hearts.
"They have all escaped my sight, reduced to memories, pictures
and tombstones.
I have bid farewell to those who left me, and I
bid farewell to those leaving soon
Every farewell stings a little
more than the last one flowing
deep into the afternoon."
Poems on serious issues like drug abuse and child labour are powerful, to say the least, and say the most appropriate adjectives. Some of the poems strike a balance with the readers (most of them) and their state of mind, line of thought, and beatings of the heart! Who does not want a better world? Who does not want everyone to be happy? And on these emotional pleas, the poet has weaved some of the darkest poems I recently read by a young poet. Even in the darkness of the themes, an abyss of the grave and serious concerns, and the depths of painful realisations, poetry with its rhyme and lyrical flow, makes the readers elated (and sorry at the same time for the visual images being drawn by the words).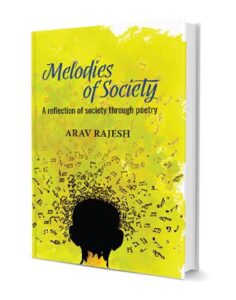 While the poems are sound on an emotional ground, at times, they lack substance. For example, in a poem titled Humanity, the poet goes on being omniscient and justly tries to make everyone aware of the social inequalities of many kinds. Illustrations further add to the emotional quotient and may pin down those who are a little fragile at heart. However, inequality, most of the time, is a result of a manifold of processes. It is not because people choose not to be sympathetic or humane. It is because a few work hard and go above the average limit 'normalised' by society. The poet writes:
"But with the idea of basic rights and decency, some of humanity
completely disagree
I am appalled by their atrocities, the violence and the disparity
that plagues their society."
These lines may plead the case of a 'little more humanity' at the best. And the poem, as a whole, does make many valid appeals to readers. However, while criticising the political process, the poet might have turned his back on many schemes and welfare funds that solely run for deprived, have-nots, and poor people of the society. Well, poets have the liberty to choose what to write and what to ignore. And going by that measure, the poem being discussed, Humanity, successfully invokes emotions and sympathy for the poor people of the world.
To conclude, Melodies of Society by Arav Rajesh is more like an alarming poetry collection. The poet has rightly warned the readers in his introduction to think before they read these works. I do recommend this work to readers who want poetry to be more than a collection of words. You can get a copy from Amazon India. Follow the link below:
Buy the poetry collection now – click here.
Review by Adarsh for Intellectual Reader
Melodies of Society by Arav Rajesh – Book Review
Intellectual Reader's Rating
Summary
Melodies of Society by Arav Rajesh is a collection of 14 poems reflecting the social truths we often ignore. Poems are driven by intense emotions and engage readers on many fronts (with the subject of the poem at the centre). Mostly grim and dark, these are the truths one must face today!